Cheongwa is a Frog-Mix servant who works for Osu's family.
Appearance
Edit
A Frog-Mix that stands like a human. Can also shrink back into regular frog size (usually when embarrassed).
Background
Edit
...
...
Personality
Edit
A loyal person who will follow orders from their master at whatever cost. Somewhat worried; apologizes often.
Abilities/ Powers
Edit
...
Relationships
Edit
...
...He said he liked Frogboy magazine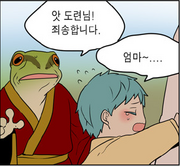 Ad blocker interference detected!
Wikia is a free-to-use site that makes money from advertising. We have a modified experience for viewers using ad blockers

Wikia is not accessible if you've made further modifications. Remove the custom ad blocker rule(s) and the page will load as expected.